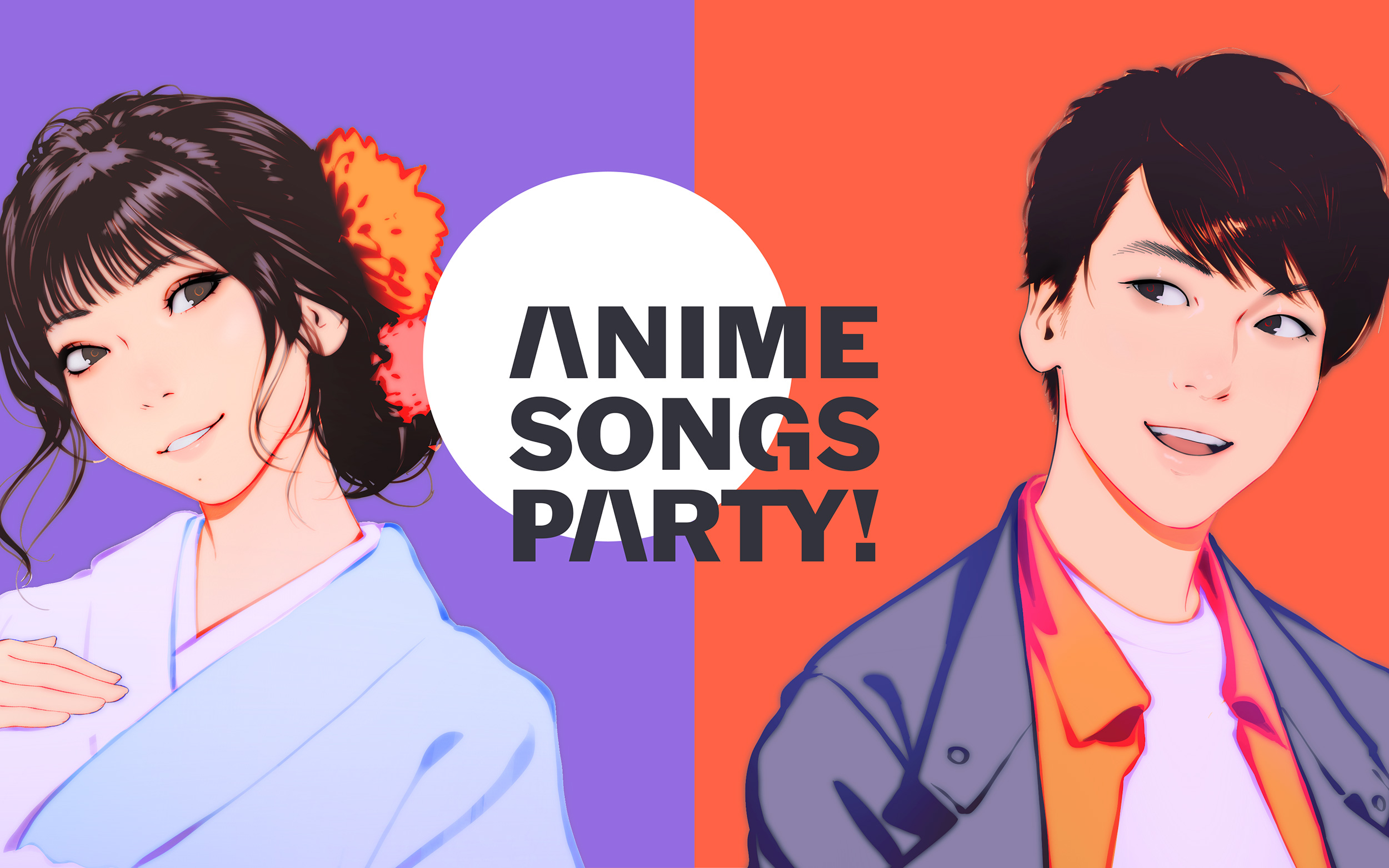 世界を、アニソンでつなごう。
全世界のアニソンファンにおくるラジオ&YouTube番組。
アニメソングは、日本アニメブームとともに世界へ発信され、さまざまな国や地域で言語の壁を越えて愛されています。
この番組は、全世界をアニソンでつなぐ、ファン参加型の新番組。世界中からセッションを募集し、SNSを通して世界中のファンとアニソンを楽しむことがテーマ。

ファンからの「歌ってみた動画」「演奏してみた動画」を番組内で紹介し、YouTubeなどでカラオケとして使用可能なアニソン音源を随時アップします。#ANIMESONGSPARTY をつけてアップされた音源・動画は番組の中で紹介し、パーソナリティもセッションに参加します!
Radio & YouTube Program
for Fans of Anime Songs All Over the World.
This is a new fan participation program that connects the whole world with anime songs. The theme of the program is global sessions for fans to enjoy anime songs together through social media.

Videos of fans singing and performing anime songs will be introduced in the program, and sound files that can be used as karaoke tracks on platforms such as YouTube will be uploaded as needed. Videos uploaded with the hashtag #ANIMESONGSPARTY will be showcased during the program, and the personalities will join the sessions as well!
番組では、あなたの「歌ってみた・演奏してみた」アニソンを募集中!弾き語りやバンドでの参加もOK。また、番組が用意したオリジナル・カラオケ音源を使ったセッションも大歓迎です!

 ・ラジオネーム
 ・アニソンカバーを視聴できるURL
 ・番組へのメッセージ

を記入して、あなたがカバーしたアニソンを、ぜひ番組宛てにメールしてください。 ラジオ・YouTubeの番組内でご紹介させて頂きます。お待ちしております! The program is looking for video submissions of your singing anime songs! Acoustic or band performances are welcome as well! You are free to use original karaoke tracks prepared by the program for your sessions.

Email the following information to the program:

 - Radio username
 - Link to your anime song cover
 - A message for the program

The radio and YouTube program will introduce the submissions.
We look forward to hearing from you!
大西洋平

YOHEI ONISHI

1983年12月22日生まれ。東京都出身のシンガー・ソングライター。 中学時代よりピアノとギターを始め、20歳からソロ活動を開始し、 2013年にミラクルチンパンジーを結成。(同バンドは2022年 TVアニメ『佐々木と宮野』OP主題歌を担当) ソロ活動では魔進戦隊キラメイジャーや手裏剣戦隊ニンニンジャーのOP主題歌など特撮やアニメ関連曲を数多く歌唱。また、神谷浩史、内田彩、伊藤美来、和氣あずみ、Machicoなどへの楽曲提供やコーラス参加も行なっている。 Born on December 22, 1983. Singer and songwriter from Tokyo, Japan. He started playing the piano and guitar in junior high school, and started his solo career at the age of 20. In 2013, he formed the band "Miracle Chimpanzee" (under the name of the band, he sang the OP theme song for the TV anime "Sasaki and Miyano" in 2022). In his solo career, he has sung many Power Rangers and anime-related songs, including the OP theme song for "Mashin Sentai Kirameiger" and "Shuriken Sentai Ninninger." He has also provided music and participated in chorus for Hiroshi Kamiya, Aya Uchida, Miki Ito, Azumi Waki, Machico, and others.

ひなたひかり

Singing Cosplayer Hikari

1997年4月29日生まれ。YouTuber・TikTokerで、カバーシンガー。27曲のアニソンやボーカロイド曲のカバー歌動画をYouTubeにアップし、合計870万回以上再生されており、YouTube視聴者の95%以上は海外から。2021年4月リリースの「夢と葉桜」カバーは、YouTubeで247万回以上再生され、世界14か国のJ-POPチャートで1位を獲得。同年7月にはイギリス最大の日本文化フェスHYPER JAPAN ONLINE 2021に出演。2022年1月に、なかやまきんに君とのコラボカバー「お願いマッスル」で、よしもとミュージックよりメジャー配信デビュー。同曲で3月末まで「土曜はナニする!?」EDを担当中で、LINE MUSIC MVチャートでウィークリー最高位6位など国内でも話題となっている。 Born on April 29, 1997, she is a YouTuber, TikToker, and cover singer. She has uploaded 27 cover songs of anime songs and vocaloid songs to YouTube, and her videos have been viewed more than 8.7 million times. Her cover of "Yume to Hazakura," released in April 2021, has received over 2.47 million views on YouTube and reached No. 1 on the J-Pop charts in 14 countries. In July of the same year, she performed at HYPER JAPAN ONLINE 2021, the largest Japanese culture festival in the UK. In January 2022, she made her major music distribution debut from Yoshimoto Music with "Muscle Please!" a collaborative cover with Nakayama Kinni-kun. The song is currently serving as the ED of Japanese popular TV program"Doyou wa nanisuru!?" The song has become a hot topic in Japan as well, with the highest weekly ranking of #6 on the LINE MUSIC MV chart.